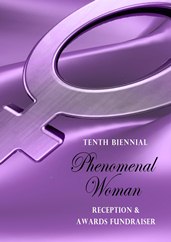 Melissa Roxas was selected as an awardee for the upcoming Tenth Biennial Phenomenal Woman Awards on Saturday, November 3rd, 2012.
The Phenomenal Woman Awards event celebrates women who have made outstanding contributions to our community. It also allows the Gender & Women's Studies Department to raise funds to sponsor special programming, support student and faculty research, and finance scholarships for Gender and Women's Studies students. In addition, these contributions support the CSUN Women's Resource and Research Center, the oldest continuing Women's Center within the California State University system.
The event begins with a Reception and Silent Auction from 4-5 PM. This is a wonderful time to meet and converse with the awardees for this year and past awardees. The Silent Auction offers a wide array of items ranging from spa and restaurant coupons and weekend getaways to sculptures and other art works. All proceeds go to supporting the students and faculty in GWS.
The presentation of the awards will begin at approximately 5 PM.
More information at http://www.csun.edu/ws/PW/phenomenalwoman2012.html.